Jim began turning in 1999, and over the years has managed to perfect his technique, creating one of a kind works of art. With the use of his lathe, he is able to produce unique, food safe items that will hopefully become future family heirlooms. Jim considers his wood turned items to be functional art, intended to be used in everyday life, yet beautiful enough to be called art. Jim uses fresh cut, salvaged logs, burls and unusual woods sometimes letting them sit for a year or more allowing nature to spalt the logs adding greater visual interest in the turnings that he produces.
Once the wood is mounted on the lathe, he uses a number of techniques and tools to rough out his work. Once sealed to help prevent cracking, the roughed out item is placed in his drying shed to sit for no less than one year. Once dry, the item is placed back on the lathe and finished where Jim will sometimes inlay the rim of the bowl with shells, soapstone, or other minerals, creating even more interest. Refusing to give up on an item that has cracked, he will often inlay cracks and knots, thus saving the item from the woodstove and making the item more valuable.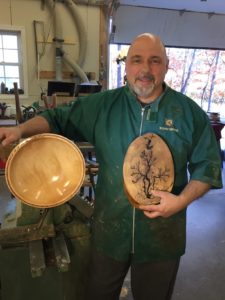 Jim is retired from the Canadian Military where he served 23 years, including a tour to Bosnia in 1992-93 and two tours to Afghanistan in 2004 and 2006. Jim is now a full-time turner creating his one of a kind pieces and currently resides in Petawawa, ON Canada with his wife, and their three children.